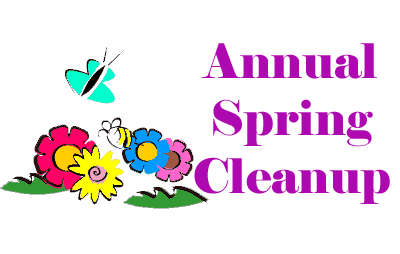 Notice to City of Black River Falls Residents
Spring Clean-up Days 2017
The City of Black River Falls will hold Spring clean-up days the week of Apr 10, 2017. Large items will be picked up on the day of your regular garbage collection that week. Please have these items at the curb in such a manner that they can be picked up by the City's loader. Wood, metal and other material to be disposed of must be separated and stacked neatly or it will not be picked up. Disposal of contractor materials is the responsibility of the property owner; the City will not pick them up. Brush pickup will begin the week of Apr 24 and the week of the month thereafter.
Disposal of appliances and tires will be handled in the following manner: Appliances will be collected only during spring and fall clean-up days. A $10.00 per appliance fee must be paid at City Hall prior to the appliance being collected. The receipt must then be attached to the appliance placed at the curb. These appliances include dishwashers, washers, dryers, water heaters, humidifiers and the like. Stuffed furniture including chairs, sofas, mattresses and box springs will also be subject to a $10.00 per item charge. ALL FEES MUST BE PAID AT CITY HALL PRIOR TO COLLECTION. RECEIPT MUST BE ATTACHED TO ITEM TO BE PICKED UP. Apartments with dumpsters are not included; these residents must pay the fee at City Hall and take the item to the dump. Tires must be taken to the Transfer Station next to the City Shop at the Fairgrounds between 7:00 AM and 3:00 PM. A $5.00 per tire fee must be paid at City Hall prior to disposal. Waste oil can be taken to the City Shop and disposed of at no cost, at the location indicated by the sign on the building.
Due to waste disposal laws – the City cannot accept refrigerators, freezers, microwaves, air conditioners, dehumidifiers, TV's, computer monitors or towers, DVD players & other video players, printers, fax machines or antifreeze.
Leaves will only be collected in the fall starting the 3rd week in October.
The last brush pickup will be the week of Oct 30, 2017 until April 2018.
Yard waste/grass clippings, garden waste & pumpkins may be taken to the City Shop. Please remove the waste material from plastic bags. There is a sign where the material should be placed.
ALL ITEMS MUST BE SEPARATED AND PLACED BY CURB AS FOLLOWS AND WILL BE PICKED UP ON THE SAME DAY AS YOUR NORMAL GARBAGE COLLECTION:
WOOD IRON GARBAGE GLASS APPLIANCES
Boards           Metal Doors             Bags                          Doors               Stoves
Cabinets         Swing Sets               Stuffed furniture       Jars                   Washers
Chairs             Engine Parts            Garbage Cans            Plates                Dryers
Doors             Springs                   Toilets                       Windows
Bed Boards    Bicycles                    Sinks
Please remember to separate your recycling from garbage. PLEASE REMEMBER TO KEEP YOUR ITEMS SEPARATE AT THE CURB.
Get the recycling calendar here.
Thank you for your cooperation.
Todd Gomer
Street Superintendent
City of Black River Falls