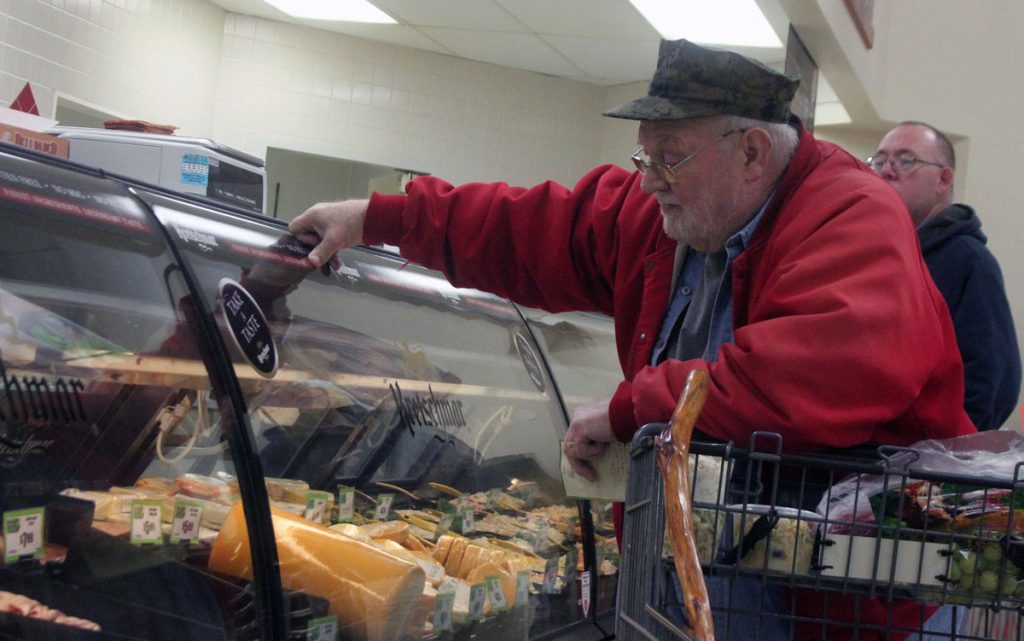 Hansen's IGA opens with shelves stocked
Kathy Mason of Black River Falls was excited to shop at the new Hansen's IGA in Black River Falls Wednesday as she checked out their selection in the frozen aisle.
After months of speculation and anticipation, Hansen's IGA opened Wednesday in Black River Falls on Hwy. A, attracting customers excited about the new grocery store.
Hansen's IGA purchased the store Sept. 25 at a Milwaukee auction of Gordy's Market properties after Gordy's Market sold many of their properties earlier this year due to financial problems.
Kari Hansen, special projects coordinator for Hansen's IGA, said everyone that comes to a Hansen's IGA should expect high-quality produce, a great selection from the entire store, great staff and a high-quality meat department.
"We have our own smokehouse (meats) that we make at our Bangor location and distribute to all of our locations. We have won awards on our bratwursts and some of our other sausages. We also have a signature double-smoked ham from that smokehouse," Hansen said.
Kathy Mason of Black River Falls who was taking in the new store agreed, "I like their selection of meat and I have bought Hansen's meat in West Salem and I've been very happy with it."
Leo and Rosemary Hansen opened their first grocery store location in 1968 in Bangor. Sons Greg and Nick Hansen, in addition to Greg's wife Kari, are now involved in the day-to-day operations of Hansen's IGA.
"The three of us are in the stores all of the time and are involved in the day-to-day aspects of things," Hansen said adding that Leo and Rosemary Hansen are trying to retire, but do come by and help sometimes. "Leo and Rosemary were here yesterday helping us get stocked and things."
The entire family and employees have been working on restocking the shelves in Black River Falls since Sunday when the store closed down to facilitate the changeover. Hansen's IGA plans to leave the layout the same, but will be analyzing the needs of the area which may alter the size of some departments.
"It is a great town and the staff that is here, we've been excited to have them be a part of the team. It is just a great town to be involved with," Hansen said.
Karen Iverson also stopped in on Wednesday to scope out the new store and was impressed with how clean it was. "I am very happy that somebody came in here," Iverson said. "I'm just happy that it is IGA because I did like John's."
John's IGA was a grocery store that was in downtown Black River Falls several years ago next to the Black River.
Mason was also impressed with the selection the new store had, "I think it is wonderful. I am happy to have a good grocery store in town."
Hansen said that they are currently working on restocking the shelves and will be making signage changes over the next few months in anticipation of a grand opening after the first of the year.
The Black River Falls store is open from 7 a.m. to 9 p.m. every day of the week with senior discounts available in the store on Wednesdays.
Jordan Simonson jordan.simonson@lee.net / Jackson County Chronicle