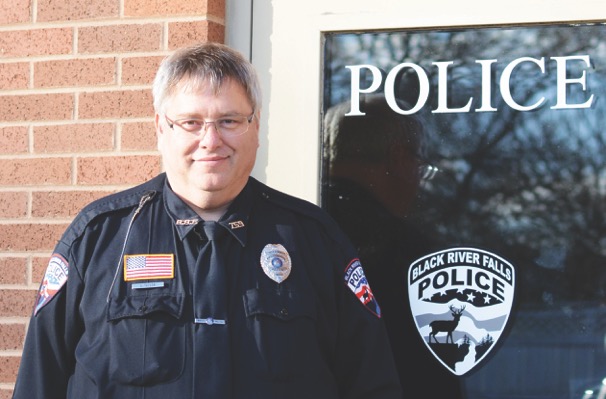 "Ever since I was a little kid, watching "Adam 12" and "Emergency," it was always my goal to be in law enforcement," Dean Taylor, Black River Falls (BRF) Police officer shared.
Taylor received a bachelor's degree in criminal justice from UW-Platteville in 1988. "I graduated in December but started working that June as a part-time jailer, before I graduated," Taylor shared.
Taylor worked one year as a jailer and five years as a road deputy for the Grant County Sheriff's Department before coming to BRF July 17, 1994.
"There have been a lot of changes in law enforcement in general since then," shared Taylor. "We didn't have the equipment and the crime – drugs – and the lack of support for law enforcement."
Taylor said he feels law enforcement officers have become "targets" because of media reports and the "public not hearing all the facts before jumping to conclusions."
"We can't release information until it's investigated," he explained. "Even if we did give everything out, people still talk and make their own decisions."
Taylor said, "The most senior officer the department will have after I retire is two years on. It's good to have fresher officers. Times have changed since I was in the academy. The training is different," Taylor added, saying his academy training was 320 hours and training now is around 720 hours.
"So much has changed in law enforcement. When I started, you didn't need a college degree, now you need at least 60 college credits or an associate's degree to be in law enforcement."
Taylor said he has worked with good chiefs and bad chiefs during his career in law enforcement. "There were five chiefs in BRF. The best chief I've had since being here, one who has been fair to all the officers and takes time to talk instead of jumping to conclusions," Taylor added that is the department's current Chief of Police, Kelly Bakken.
At the BRF Common Council meeting Nov. 15, when Taylor officially announced his retirement to the city leaders, Taylor commended the current chief, saying, "You made the best choice hiring Chief Bakken."
"As of Dec. 22, I will be retiring as a police officer for the city of BRF. It's been 23 years and a great journey," Taylor shared at the Nov. 15 BRF Common Council meeting. "I want to thank you for the opportunity to work here. It's time to move on."
Officer Taylor's announcement was met with applause, a standing ovation and several thank yous from city leaders.
"I have had the opportunity to work with him (Taylor) for many years. He's done an excellent job and his presence will be missed," commented 3rd Ward Alderperson John Ross.
Taylor said he will miss the camaraderie the most but not just within the department. "I had good working relationships with Jackson County Sheriff's Office deputies. Everyone knows me by name now. I'll miss helping people in need and treating people with courtesy. You treat people the way you want to be treated, no matter who they are. Many who I've arrested are friendly, still, towards me."
Taylor said he and his wife Catherine are moving to the La Crosse area where he intends to spend time relaxing, walking the country roads near their new home and helping his son build a new home next year.
Taylor said the most memorable parts of being a BRF Police Officer was getting to meet the people in the BRF area, "in and outside of law enforcement."
Just like on the old TV series "Adam 12," Taylor said that he too had to rescue animals, and he learned a lot about adapting to different situations. "There was a woman who was in need of services. We were trying to get her to get some help, but she said she didn't want to leave her spaceship. So I told her we could go to my spaceship, but we would have to take my transporter ship, which was my squad car, to get her there."
Overall, Taylor commented that law enforcement was "everything I thought it would be."
By Lori Jayne Carlson
Originally published in the November 22, 2017 issue of the Banner Journal