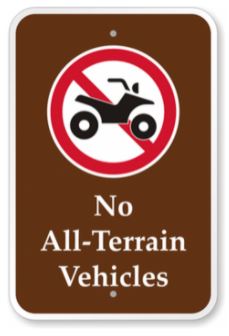 On August 3, 2021, the Black River Falls Common Council approved Ordinance #865 which designates all city-maintained roads, streets, alleys, and highways, including any city-maintained parking lots, except connecting highways, as open to all-terrain vehicle ("ATV") or utility terrain vehicle ("UTV") routes, except as otherwise posted, and authorizes the operation of ATVs or UTVs on all state, connecting and county highways with a posted speed limit of 35 MPH or less within the territorial boundaries of the City, except as otherwise posted.
However, ATVs/UTVs will NOT be allowed on city streets until such time as all required ATV/UTV signs are installed in accordance with Wisconsin Administrative Code NR 64.12 (7) and all applicable statutes and administrative code provisions. The City anticipates it could take 60 days or longer to get all the required signs in place, depending on the availability of signs and materials.
A news release will be provided at a later date when all signage is in place and ATVs and UTVs are allowed on certain city streets as outlined in Ordinance #865.
Until then, ATVs/UTVs are NOT allowed on city streets.