Officer Ethan Shaffer has been assigned as the Black River Falls Police Department's new canine handler. Officer Shaffer and the department's new canine, Ilo, are currently training at Jessiffany Kennels, Iron Ridge, Wisconsin. I anticipate that Officer Shaffer and canine Ilo will be certified and working by the middle of March.
It is clear that the community wants and needs a canine program. Having an efficient, effective, competent, and well respected canine program is the mission of the police department. I am confident that Officer Shaffer is a good choice for the canine assignment. Officer Shaffer is dedicated to this department and to making Black River Falls a great community.
After speaking to different canine trainers and handlers it was decided we would not be bringing canine, Mattis, back into the department. Jessiffany Kennels agreed to trade Mattis for a different fully trained canine of our choice. It can be difficult to bring a former canine back into the same department with a new handler, but more importantly the canine needs to be a good fit for the handler. I believe that Officer Shaffer and canine, Ilo will make an excellent team.
Although a canine will never replace and officer, a trained canine is a valuable asset, which enhances law enforcement performance. Because of a canines superior sense of smell, hearing and physical capabilities they are an asset in making the community safer environment for the citizens. Our canine is a valuable asset in fighting crime. I look forward to what Officer Shaffer and Ilo will do for the community.
Chief Kelly Bakken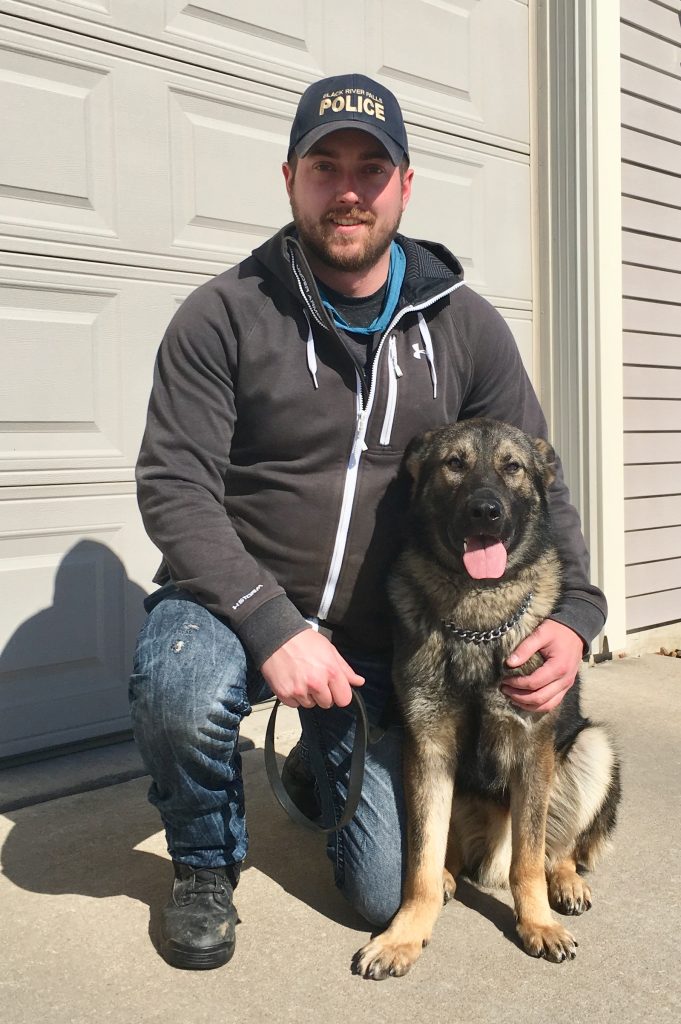 Officer Ethan Shaffer and Ilo