Black River Falls Parks & Recreation Director Steve "Petey" Peterson was named Wisconsin Parks & Recreation Association's (WPRA) "2018 Outstanding Professional of the Year"!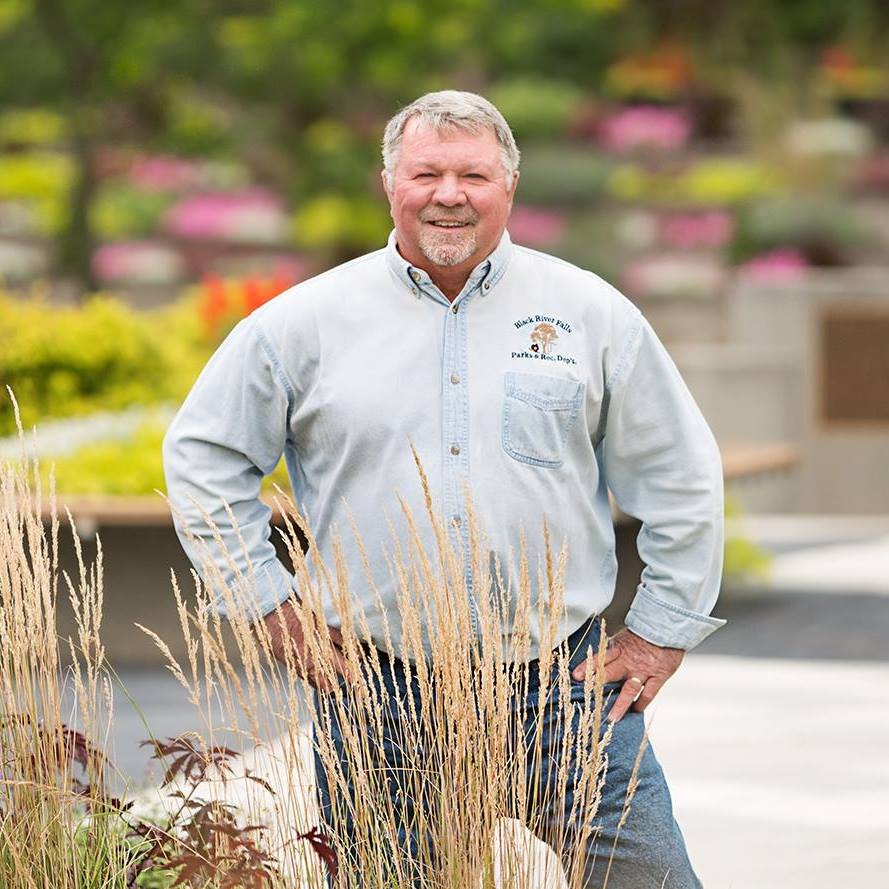 Steve Peterson's Story:
I got started in the business of Parks & Recreation in 1987. I needed a resume for the Parks & Recreation Director position being offered by the City of Black River Falls. Never having done a resume before, my wife created one for me. She made me look pretty good. The advertisement stated that it was going to be just a part time job. The small amount of income I would receive would provide us the extra revenue needed to purchase seed and fertilizer for my farming career. I was lucky enough to receive an invite to interview. I was lucky enough to be offered the position. But they created a hitch for me. The job was going to become a full-time job and I would need to move to the City. Long story short, we decided to do just that. Little did I know that it was to be one of the best decisions of my life.
I joined the WPRA right away looking for information that they could provide to help me in my new career. They sent me information as to where and when Region 1 meetings were being held. I went to some of the early meetings like a mouse in the corner watching and learning. Region 1 members convinced me to come to the Annual WPRA conference. Again, this was a great decision, as it opened my eyes to the benefits of membership in the WPRA. At the conference I met many vendors that would assist me in making decisions to benefit my new career.
It took a couple of years to feel ready to be involved with the WPRA. To help me get involved, I was asked to assist with the socials at the WPRA Conference when it was held in La Crosse. Next up, I was at a President's Reception in Lake Geneva and I was volunteered/nominated to be the Region 1 Rep. Once that happened, the rest is history as they say. I attended all of our Region 1 meetings and all of the WPRA Board meetings. I attended the Spring Workshops and got involved with the Aquatics section. I went to quite a few Summer Park Tours. The socializing at this type of event is unbelievable. Along with serving on the WPRA Board I have served as an Aquatics Section Rep and currently as a Parks Section Rep. I have also attended the Leadership Academy, levels I and II. What an unbelievable experience that was. It was another step in my professional growth. I have served on several conference committees. I have assisted wherever I was asked by the WPRA. I have utilized my membership to generate information to assist in making my community better. I owe so many of you a heartful thanks for helping me grow in this business. Because of this growth, I am either chairperson or a member of 10 different community groups that benefit our community. Our community has really grown over the years and I look forward to its continued growth.
Get involved, don't be afraid, this profession is a fantastic way to live. The people you meet along your path in the WPRA will assist and mentor you into great things. All of the socials, meetings, conferences and events you attend will give you little crumbs. These little crumbs will feed the little mouse in the corner to become a potential 30 plus year member. Wow, who knew that would happen?
Thanks to all of you for recognizing me with this award. There are a lot of great deserving people out there. This is really awesome and it is truly an honor to be selected.