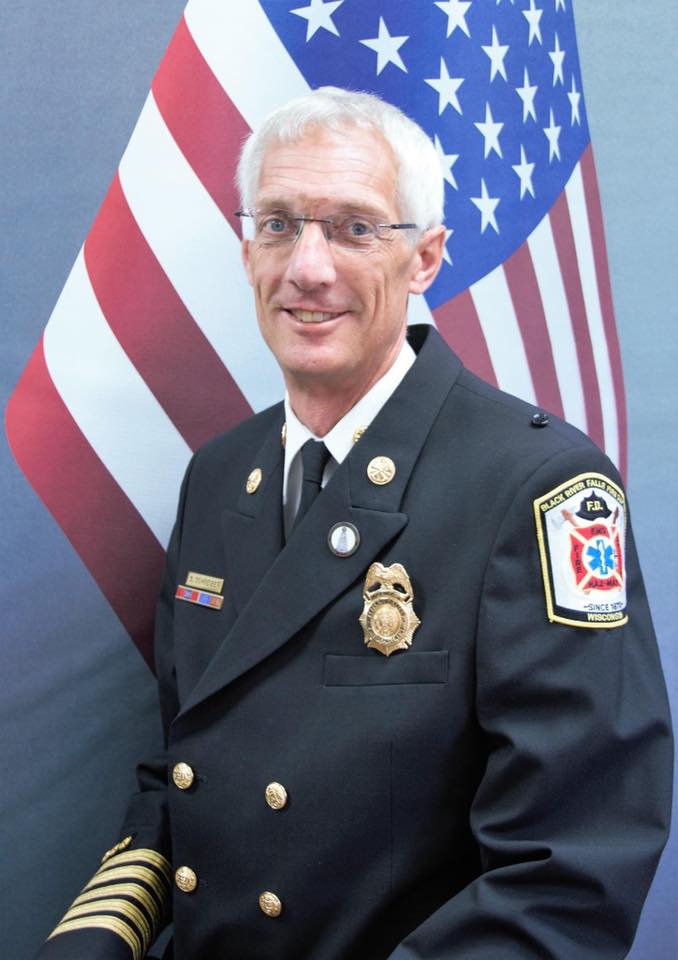 From: Steve Schreiber, Fire Chief
April 21, 2020
Several months ago, I advised that I would be retiring as the Black River Falls Fire Chief in 2020. After 40 years of working in emergency services of some form, (1st Responder, Volunteer Firefighter, Emergency Medical Technician, Police Officer, Ambulance Service Director and Fire Chief), I will be retiring as Fire Chief on May 15, 2020 from the City of Black River Falls and Black River Rural Fire Department. I have served 33 years and 7 months as a full-time public employee.
It all started back in the spring of 1980 when I joined the Alma Center Volunteer Fire Department right out of high school. In the fall of 1982 I became a medical 1st Responder and for a few years I was the only one with the 1st Responder training in the Alma Center Area. In 1986 along with Bruce and Sally Cormican we became the founding members of the Alma Center 1st Responders. I attended "District One Technical College" in Eau Claire and completed the associate degree program in police science. It was October 1986 that I became a certified law enforcement officer upon completing the 320 hour Wisconsin Training and Standards Recruit Course. I started full time in 1987 as a police officer for the City of Black River Falls. In 1991 I accepted a position at the fire department as the Emergency Medical Services Director, which I held for 14 years. During this time I also served on the fire department as a firefighter, captain and assistant chief. In 2003 I was hired as the Fire Chief.
I never thought this day would come, and still finding it very hard to believe that it has. I am excited about my impending retirement, but the decision is bittersweet, as well. Aside from my immediate family, I cannot think of a family I am happier and more proud to have been a part of which, is our nation's fire service family! It has been an amazing journey with some very sad memories, but many more great memories.
I must to express my "Thanks" to the Black River Falls area community for their outstanding support over the years of both myself and the department. Without the community support shown over the years the department would not have the trained department members or equipment needed to respond in a time of need.
Take care and be fire safe!
Sincerely,
Chief Steve Schreiber