Citizens in Black River Falls can download a free app, HeyGov, on iOS and Android to report issues in the city, sign up for updates, get news and notices, and vote in straw polls about issues in the community.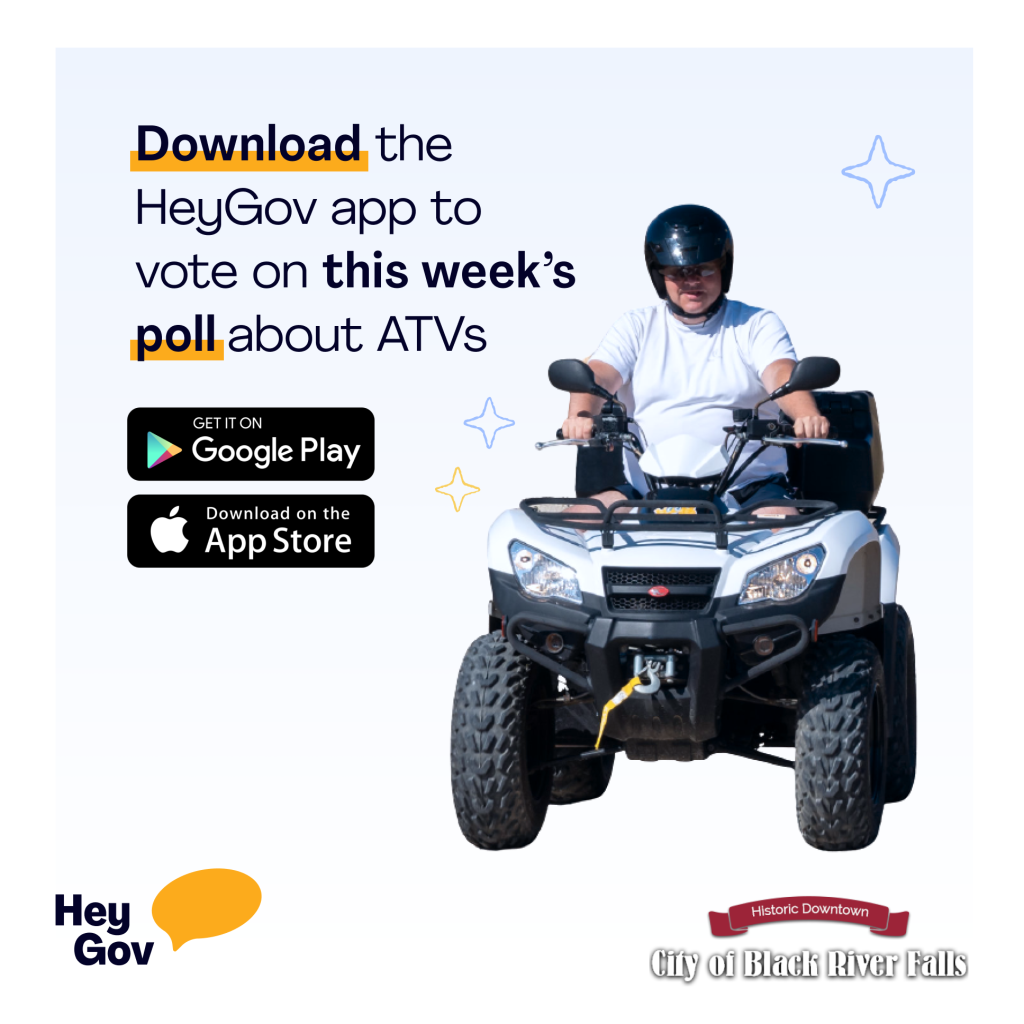 City residents can now vote in a straw poll and share their opinions on proposals to authorize ATV/UTV traffic in the City of Black River Falls.  The Black River Falls Downtown Association has submitted a written proposal to allow ATV/UTV traffic to access downtown Black River Falls.  Several city residents have also submitted written requests to allow ATV/UTV traffic on all city streets.  This topic has been discussed at recent Common Council meetings and will be discussed again at upcoming Council meetings until a decision can be made.  Other local municipalities such as the Town of Brockway, the City of Sparta, the City of Tomah, and the City of Neillsville allow ATVs/UTVs to operate on all streets/roads in their municipalities.  The Black River Falls Common Council would like to hear from city residents!  The straw poll is intended for city residents only and can be completed by downloading the "HeyGov" app, accessing it on-line at https://app.heygov.com/blackriverfallswi.gov, or completing it in person at City Hall located at 101 S Second Street in Black River Falls.  Be sure to cast your vote by midnight, May 15th in the app.
City Administrator Brad Chown collaborated on the app with HeyGov, a government technology firm in Madison, Wis., with a goal to make citizens happier. The HeyGov widget was added to the municipal website in March. Now, the HeyGov app is available for free download from the Apple App Store and Google Play Store.
You can download the app to:
Report Issues in the city and sign up for status updates on your issues.
Participate in Straw Polls, including this week's ATV/UTV poll.
View the latest News and Notices within the app whenever they are posted on the city website.
The newly added Straw Poll feature perfectly represents the goals set by the city of Black River Falls in its collaboration with HeyGov. It's a way for citizens to interact and communicate easily with city leaders and departments. The Straw Poll on ATV/UTV use in the city ends at midnight on Monday, April 19th.
To download the free app: