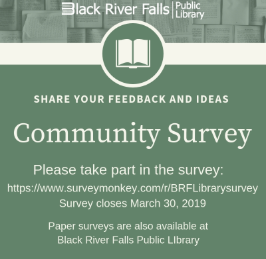 Have you completed the survey? The Black River Falls Public Library is conducting a Community Survey as part of their strategic planning process.
To guide planning they would like to learn more about what the community values about the library, including which services and programs people are using and what they would like to see from the library in the future. All responses are strictly confidential and will only be shared in summary format with the Library's staff and Board.
The survey will be available through March 30 and should only take about 5-10 minutes to complete: https://www.surveymonkey.com/r/BRFLibrarysurvey…
If you have questions about this survey, please contact Tammy Peasley, Library Director, at 715-284-4112, Ext. 5 or t.peasley@wrlsweb.org. Thank you in advance for your input!